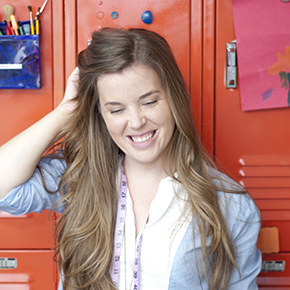 Shannon Brinkley is an elementary teacher turned international teacher/speaker, quilt and fabric designer, and author. A life-long maker, as a girl, Shannon hopped from hobby to hobby (weaving, embroidery, knitting, garment sewing, among others) but began quilting in college, where she fell completely in love with the craft. Inspired by her love of fabric and the texture, Shannon wrote the book Scrappy Bits Appliqué (published by Stash Books in 2014), where she puts a scrappy twist on traditional appliqué techniques by collaging a variety of fabrics, vintage and new, with different colors, tones, and patterns to create a really interesting and unique texture. Her techniques are perfect for beginners and experienced quilters alike, as the steps are quick and simple to grasp, yet offer a wide variety of creative possibilities!
Shannon has published over 100 different quilt patterns, both print and digital; taught students in over 12 different countries through her online courses; appeared on several PBS episodes of Creative Living and Fresh Quilting; and has traveled all over the U.S. and Canada speaking and teaching her unique techniques.
Shannon lives in Austin, TX with her husband and son. In addition to quilting, teaching, and writing, Shannon loves to knit, travel, practice yoga, cook, and garden.