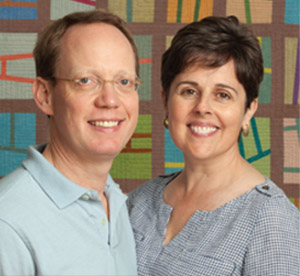 Weeks Ringle and Bill Kerr are co-founders of Modern Quilt Studio. Weeks and Bill wrote the first book on modern quilting, The Modern Quilt Workshop, as well as Quiltmaker's Color Workshop, Quilts Made Modern and Transparency Quilts. Their book A Kid's Guide to Sewing, written with their daughter, was released in 2013.

They publish Modern Quilts Illustrated, the first magazine exclusively dedicated to modern quilting. Their work has appeared in American Patchwork & Quilting, Quilts Japan, Australian Quilter's Companion, Dwell, O:The Oprah Magazine, TIME, The New York Times, and Country Living.

Weeks teaches the Craftsy course, Designing Modern Quilts and writes the blog Craft Nectar (www.craftnectar.com). Bill is also head of the Department of Art, Art History and Graphic Design at Dominican University in River Forest, IL.